SHOPPING MALL / SHOPPING CENTERS — BANGKOK
Progress : Stage 3/4 >> Implementation – Commissioning
The Project initiated in 2015 through conversations with the Mega Bangna Management (a JV between Ikea and the Thai Group SF Development) over a 'better treatment' to the waste generated in the Mega Mall than the current one (dumping in a 'not so sanitary' landfill); these discussions conducted to the signature of a concession contract in 2016 and a commitment by Wheig that, altogether with a saving on the current waste treatment price, the waste would be sorted, recycled and re-used .. not dumped and contaminating the neighborhood.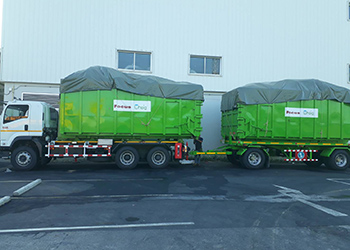 In addition to Mega Bangna, conversations initiated with Big C and Tesco Lotus with the same proposal for a better treatment .. at a cheaper price. Initial conversations started also in 2015 but the final contracts were eventually inked late 2018, illustrating the fact that 'non core' business negotiations with big Organizations can drag for some time.
In parallel, all crucial steps for the implementation of the Project have been completed :
identification of a suitable local partner and conclusion of relevant agreements : 2016
identification and purchase of land for the project: 2017
filing and award of required licenses: 2017-2018
design & construction of the plant : 2017-2018
purchase of mobile equipment (trucks, containers, loaders) : 2018
purchase of core equipment (sorting line, WWTP, biofilter) : 2018
and the Plant is currently under final testing and ramp up process.
---
THE PROJET
Installation and operation of a waste treatment and valorization Plant under BOO, developed under Wheig control and assessment.
Key Indicators:
Feed :
up to 60,000 Tons per year of mixed waste from Shopping Malls and Centers (including food courts)
Output :

recyclables (paper & cardboard, plastics, glass, metals ..)
RDF
compost

Partners:

Co-Investor : Focus Development Ltd
Design : Wheig
Construction : Focus Development Ltd
Waste providers: Mega Bangna (a JV between Ikea & SF Development) / Tesco Lotus (subsidiary to Tesco UK) & Big C (formerly a subsidiary to Casino from France)
Recyclables : Wongpanit
Compost : local farmers
RDF : local cement plant and in particular TPI

Others :

Investment : over 6 million USD
Project under BOI (Board of Investment of Thailand) Agreement