Rationale
Wheig Asia HKG was created in 2017 to spearhead the development of Wheig SAS (link to Wheig SAS website) in Asia with the support of key investors. Wheig SAS bringing the technology and know-how from similar experiences in Europe and South America. The investors (link to shareholders page) were carefully selected for their capacities in project finance, in plant operations in Thailand and in general in their proximity with Thailand in particular and Asia in general. After 2 years of development, Wheig Asia is commissioning its first Asian project in Plang Yao, Chachangsao province, Thailand on the 18th of April 2019.
After successful commissioning and operations of our flagship, Wheig Asia has been requested by its existing clients to extend a network of similar plants around Bangkok, other major cities of Thailand and beyond. The success story only begins…
Shareholders/Directors
WHEIG SAS
Bertrand Courcelle

Bertrand Courcelle's extensive experience in biomass treatment (MSW, animal & vegetal biomass) acquired as a result of innumerous projects in all parts of the world, from start-ups and IPO(initial public offering), to international groups : "This project was born from the challenge to find out appropriate technical and economical answers to environmental and societal considerations in overlooked areas".

Francois de Montfort

Involved in 300 projects in water management, transportation, waste and energy. Today, these experience and expertise are put together to develop in emerging and developed countries an activity where economical, environmental and social aspects are strenghtening each other.
WHEIG ASIA SHAREHOLDERS
| | |
| --- | --- |
| | CEO Alban Casimir has more than 15 years experience in waste and energy related fields. His main achievement in Thailand to date was the successful commissioning and operation from 2010 to 2013 of a 160 million THB biogas project in Kamphang Saen with Group 79, waste concessionaire of Bangkok. He is well recognized among its peers and has given speeches and written reports for United Nations, Oxfam, European Commission… in all Asia. He is in charge of the development of the first Thailand project for Wheig Asia |
| | Over the past 20 years, Yannick Zoccola held senior executives positions for leaders in Telecom, Digital Security, RFid and Financial platforms. In 2010, he founded KnL Group, leading the project from fundraising to manufacturing millions of electronic devices and subsequently selling the highly profitable venture to an European corporation. Yannick, as angel investor and coach of entrepreneurs, is seating on several boards of directors. Since 2018, he is also the co-founder of a SaaS start-up and serves as chairman of the board for a tech company. |
| | Over the past two decades, Tom has been working in various business functions including Sales, Marketing, Engineering, Business/Strategic Development and Finance with leading organizations across different industries. His specialties lie in Management, Business and Brand Development |
| | Focused on business-building to-date, Linda's priority now is to be effective in a non-business capacity. As a responsible citizen of the world, she wishes to go one step further beyond fund-raising and donations. She hopes to contribute to the greater "good" by working for a dynamic, non-bureaucratic global organization: "I believe this is where my experience and skills could be more useful". |
| | Building on its experience during 15 years in Europe and Africa raising 30M € and investing in 26 enterprises with social and environment impact Phitrust created Phitrust Asia together with Henri de Reboul its CEO. Henri had successful experiences in consulting, entrepreneurship and investment in South East Asia and Europe. Phitrust Asia is investing in promising enterprises such as circular economy and waste valorization: "Our objective is to build leaders for tomorrow's markets". |
Plang Yao Project
The Project initiated in 2015 through conversations with the Mega Bangna Management (a JV between Ikea and the Thai Group SF Development) over a 'better treatment' to the waste generated in the Mega Mall than the current one (dumping in a 'not so sanitary' landfill); these discussions conducted to the signature of a concession contract in 2016 and a commitment by Wheig that, altogether with a saving on the current waste treatment price, the waste would be sorted, recycled and re-used .. not dumped and contaminating the neighborhood.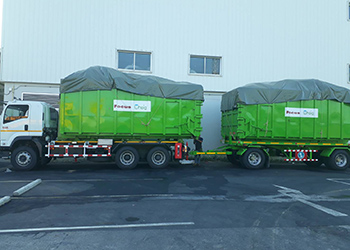 In addition to Mega Bangna, conversations initiated with Big C and Tesco Lotus with the same proposal for a better treatment .. at a cheaper price. Initial conversations started also in 2015 but the final contracts were eventually inked late 2018, illustrating the fact that 'non core' business negotiations with big Organizations can drag for some time.
In parallel, all crucial steps for the implementation of the Project have been completed :
identification of a suitable local partner and conclusion of relevant agreements : 2016
identification and purchase of land for the project: 2017
filing and award of required licenses: 2017-2018
design & construction of the plant : 2017-2018
purchase of mobile equipment (trucks, containers, loaders) : 2018
purchase of core equipment (sorting line, WWTP, biofilter) : 2018
and the Plant is currently under final testing and ramp up process.
Some pictures of the inauguration :
---
Next projects:
| Customer | Quantity of waste | Number of plants |
| --- | --- | --- |
| Existing customers (Big C – Tesco Lotus – IKEA) | More than 140 large branches are still available (600 tons per day) | 3 |
| New commercial customers (Central, Makro…) | 113 branches are available (400 tons per day) | 2 |
| New industrial customers (Gateway, BP, TFD…) | In 2016, 10 million tons of non-hazardous waste were not treated properly | 7 (5% of the potential) |
| Tourist islands | Isolated areas – waste must be higher than 20 tons/day | 5 |
Situation :